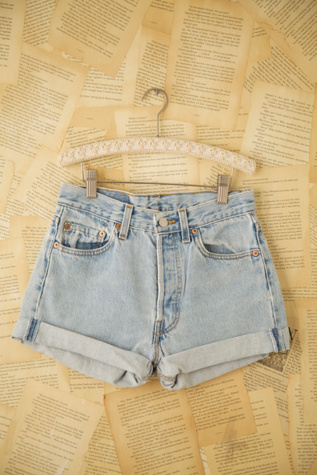 Questions and Answers
Vintage Levi's Denim Cutoffs
Style: 20915021
Jarelly at 3:19 PM on 5/4/13
"How high are these shorts? Waist? Near your belly button?"
Vintage Loves at 12:42 PM on 5/6/13
"Hello, The rise is generally around 9", so these are a bit high waisted. Hope this helps! "
Olivia at 7:41 PM on 4/25/13
"Any more mediums? "
Vintage Loves at 2:36 PM on 4/26/13
"Hello, These shorts are completely sold out. Sorry about that! "
Diana at 7:40 PM on 10/27/12
"R u getting this shorts back in stock?? pleeaasseee have it in small.. i love them so much and cant find exact one :( thanx"
Vintage Loves at 7:58 PM on 10/30/12
"Hi there, all vintage items are found, so if our buyer locates more we will sell them here. We have Large and XL in stock now! Hope this helps! "
laura at 8:45 AM on 9/27/12
"will you be getting any more in, I would love a MEDIUM!"
Vintage Loves at 10:43 AM on 9/28/12
"Hello! Keep an eye on the site--as these are vintage products, we can't guarantee that we will carry these again, unfortunately. We are always on the lookout for more vintage Levi's and will do what we can to get more of these (or a similar style) up in the future! "