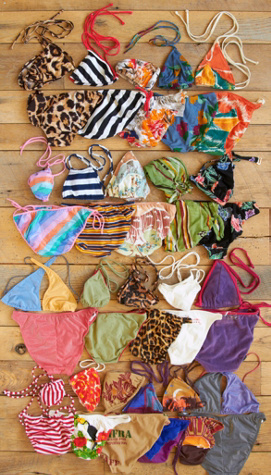 Questions and Answers
Vintage 1970s French Bikinis
Style: 25282344
Pacelli at 6:07 AM on 12/26/12
"I was wondering what the measurements for the orange and sand flower are? Also, how are the bottoms sized? Tops can be adjustable, but I'm worried the bottom may not fit! I wear a 24/25 in jeans, and have virtually no butt."
Vintage Loves at 11:02 AM on 1/2/13
"Hello! The measurements for "Orange" are: are as follows, bust 10 ? in. and the waist is 11 ? in. both across the front. The measurements for "Sand Flower" are 9 ? in. and the waist is 11 in. both across the front."
Babygirl at 10:03 AM on 12/15/12
"Looks like some bikinis tie at sides and some do not, which ones have the ties ?? And I'm usually a size 27, what would I order for bikini ?? Thanks Babygirl "
Vintage Loves at 5:43 PM on 12/18/12
"Hello, these are all unique, and are all the same size (XS). You can see which have ties by selecting the colors on the right. there will be an individual photo of each bikini. If you have questions about a specific one, we'd be happy to help! "
Annetta at 6:03 AM on 10/1/12
"Why are these swimsuits not available for return? Considering the inaccuracy of the sizes compared to modern swimsuits, i would be much more willing to purchase these if i was able to return if they didnt fit... still extremely cute though! x"
Vintage Loves at 1:58 PM on 10/2/12
"Hello! Thank you for your interest. When we list our Vintage Loves items, we make sure that we provide detailed information on the condition of the item. These items are not eligible for return because we cannot guarantee that they will be sent back to us in the same condition. We are happy to answer any question you may have, which includes providing any measurements that you may need to aid you in your decision. Hope this helps!! xoxo"
Demmi at 7:49 PM on 8/11/12
"Hello, I ordered the red and white striped bikini but now I have no idea how to put it on... it is shaped differently than in the picture. Can anyone assist me?"
Vintage Loves at 2:20 PM on 8/13/12
"HI! From the pictures, it looks like the fabric pieces may have been pulled farther apart on the string -- these should be brought towards the center of the string. From there, you will be able to work with the pieces to get them in the right spot for you. Hope this helps!!"