Details and Shopping
FP Exclusive :

Only sold thru Free People
Rose print velvet cropped bralette with elastic scalloped lace trim throughout. Spaghetti straps with adjustable length.

*67% Polyester, 25% Nylon, 8% Spandex
*Hand wash
*Import

Rose Burnout Velvet Bralette
Overall Average Rating:Â 
9
Rose print velvet cropped bralette with elastic scalloped lace trim throughout. Spaghetti straps with adjustable length. *67% Polyester, 25% Nylon, 8% Spandex *Hand wash *Import
Rose Burnout Velvet Bralette
Name:
p1gp3n
"
like other fp cropped bralettes, these are meant for girls with smaller cup sizes. the bottom rides up a bit. this particular one is pretty with the velvet details. good addition to the layering pieces.
"
Overall Rating:Â 
sizing:
runs small
true to size
runs large
Rose Burnout Velvet Bralette
Name:
Shnay
"
WOW check out this BLUE! It's SO BLUE!!! Love it. haha...ANYWAYS collecting the velvet this season. SO glad it's back in, I've always loved it for the texture it adds as well as the way it reflects light. I will be rockin it for seasons to come! I got both colors in Medium (34c) and they're kinda loose so layering is a must. Normally I am drawn to purple because it's my favorite color but I'm rather fond of this blue over the purple. Not too much support but it's not a true bra so I wasn't expecting the support of a real bra. I did not find this piece particularly itchy as some other reviewers, I think it's quite soft actually. I recommend this bralette just because it's so different yet so versatile. FUN! <3 FP
"
Overall Rating:Â 
sizing:
runs small
true to size
runs large
Images for this Review
(click to see full-size image)
My Product Recommendations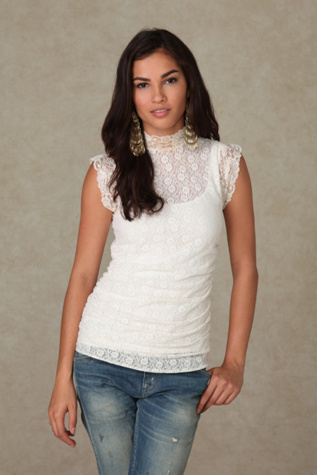 Sahara Mock Neck Lace Top
(
10
)
FPME Style Pics and Collections
Back to Top