Details and Shopping
Metal feather cuff earring with rhinestone detailing throughout. Post detailing in back with earring cuff.

*Zinc, Steel, Glass, Rubber
*Import

Feather Ear Cuffs
Overall Average Rating:Â 
22
22
Metal feather cuff earring with rhinestone detailing throughout. Post detailing in back with earring cuff. *Zinc, Steel, Glass, Rubber *Import
Name:
MonicaLopez
"
Even if they may be pretty painful in the beginning, you get used to it. i wear them everyday with whatever I am wearing. They makes me feel pretty. Ive gotten so many compliments with these. I only wear the one on my right ear.i have not had any problems with them at all. if you deciding whether or not to buy them just do it! you wont regret it.
"
Overall Rating:Â 
Images for this Review
(click to see full-size image)
Name:
Jinx
"
So I absolutely loved how these looked on the model and had to get them. The first day I wore them I got numerous compliments. But, the earrings tend to slide off and the cuffs are difficult to separate in order to get it around your ear. The cuff actually broke the first time I wore them when I tried to re-cuff the earrings back onto my ear. I had to wear the earrings the rest of the day like dangling earrings; I still got a butt load of compliments on the earrings (they still looked super cool even when they weren't cuffed onto my ear) but I couldn't ignore the fact that the cuff broke. I am calling to get another pair.
SO, if you order the earrings, be aware that the cuffs break very easily!!!
"
Overall Rating:Â 
Name:
MnMMom
"
I really like the look of these earrings, and for the price, I thought they were a good deal. The cuff is a little tricky, but I was able to hook it onto the side of my ears, and they look great! They look awesome with the Love Graphic Braided Tee!
"
Overall Rating:Â 
My Product Recommendations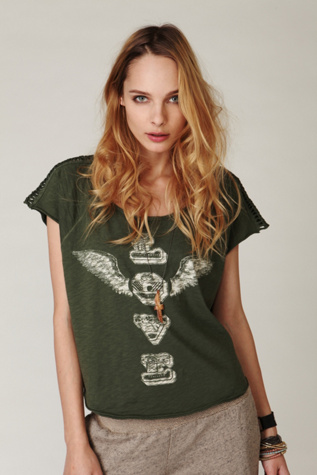 Love Graphic Braided Sleeve Tee
(
7
)
Name:
bluelotus55
"
The cuffs broke off as soon as I tried to put them on.... enough said.
"
Overall Rating:Â 
Name:
Jehanne
Pretty but you gotta have the perfect ears...
"
I got these and thought they were gorgeous for the price (very sparkly and interesting). However, I ended up returning them because I couldn't get them to stay up. I had to loosen the cuff gently and then pinch it on my ear to get it on, but it kept falling down no matter what I did. They are very heavy, and my ears just don't seem to fit right with them.
"
Overall Rating:Â