Details and Shopping
FP Exclusive :

Only sold thru Free People
Floral fabric upper with leather lining platform. Buckle closure with hidden elastic. Peep toe. Wooden heel with rubber sole.

*1 ½" platform, 4 ¼" heel
*By Jeffrey Campbell
*Cotton, wood
*Import

Foxy Fabric Platform
Overall Rating
Overall Average Rating:Â 
7
7
Floral fabric upper with leather lining platform. Buckle closure with hidden elastic. Peep toe. Wooden heel with rubber sole. *1 " platform, 4 " heel *By Jeffrey Campbell *Cotton, wood *Import
Name:
choctawgirl
"
These were a great find. I'm so glad that I ordered a smaller size. I wear anywhere from a 7.5 to 8.5 and these I got in a 7.5 and they were fine....just a tad big around so if you have Italian shoes order a half size down from that. I bought the lighter pair and wore them walking around and while not much padding on the sole, they are not blister makers,they are soft where they need to be. I would have liked to get them in the in black too but wasn't sure if a 7 would be too small.
"
Overall Rating:Â 
Name:
physicsBelle
Location:
Montreal, Canada
"
This shoe is perfect! The heel is lower than on the normal Jeffrey Campbell Foxy, which makes it much more wearable. I was even able to wear these out salsa dancing for hours without a problem! My feet hurt slighly at the end of the night only because of the fabric rubbing against my toes, but I'm sure this will decrease with some wearing in. I ordered my usual size, 6.5 and they fit perfectly. I definitely suggest these, they feel extremely solid and make any outfit extra cute!
"
Overall Rating:Â 
sizing:
runs small
true to size
runs large
Name:
Beb
"
These are my new favourites! I have had these shoes for a few months now and have gotten a lot of wear out of them..... surprisingly they go with a lot of different outfits and rather than being different enough to take away from your clothes, they are just the right amount of interesting to add to them. They are good quality, the material is very comfortable and the platform makes them super easy to walk it. I can wear them all day and night no problems. Fit true to size and they make your feet look very nice, kind of long and lean. One of my favourite outfits was wearing them with tights (it's winter in Australia!), the Viscose Voile Slip in black and the Extreme Boxy Lace Insert Tee in dusty plum. Honestly I can't say enough good things, love them to bits and would recommend them in a flash. If you are sitting on the fence, go for it!
"
Overall Rating:Â 
sizing:
runs small
true to size
runs large
My Product Recommendations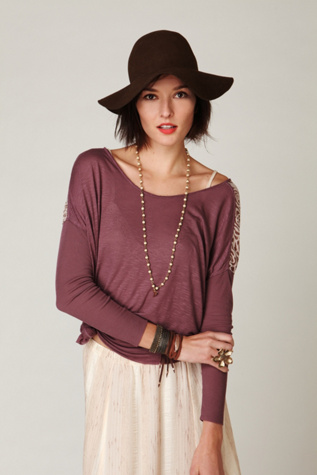 Extreme Boxy Lace Insert Tee
(
8
)
Name:
LollyL
Elegant , Romantic, Yet Funky Heels!
"
These shoes are stunning! I ordered the red/blue (light) ones to wear on my wedding day. I wore them with my mother's wedding dress (vintage, of course), and FP Directions In Lace Maxi Slip (tea). It was a beautiful, romantic wedding look, :) I felt nothing less than perfect, like the loveliest, most radiant bride in the world! (My Hubs thought so, anyway) ;). I LOVE them and will definitely wear them with leggings, skinny jeans and maxi skirts/dresses. I love funky/hippie/70s style, and these shoes cater to that love! I wear between an 8 and 9, and after reading another review went with an 8 and am glad that I did. An 8 fits me wonderfully. And yes, they are surprisingly comfortable for having a 4 1/4" heel!
"
1

of

1

found this review helpful.
Overall Rating:Â 
sizing:
runs small
true to size
runs large
Name:
arianna
"
I work at Free People and had my eye on these shoes for awhile. I tried them on in my usual size (size 8) and I think they fit perfect. They look so hot on I absolutely love them, plus I wore them for five hours at work and my feet only hurt a little towards the end of the day!
"
1

of

1

found this review helpful.
Overall Rating:Â 
sizing:
runs small
true to size
runs large