Details and Shopping
FP Exclusive :

Only sold thru Free People
Maxi skirt with a zip-up denim top and a printed, ruffled polyester chiffon bottom. Each piece is one-of-a-kind and made with vintage recycled denim for a unique, ultra-bohemian look.

This item incorporates a modified pair of LEVI'S® jeans but was not designed or produced by LEVI'S®.

*Denim is 100% cotton, skirt is 100% polyester chiffon
*Import
FP-1 Mini Denim Print Maxi Skirt
Overall Rating
Overall Average Rating:Â 
sizing:
runs small
true to size
runs large
6
6
Maxi skirt with a zip-up denim top and a printed, ruffled polyester chiffon bottom. Each piece is one-of-a-kind and made with vintage recycled denim for a unique, ultra-bohemian look. This item incorporates a modified pair of LEVI'Sr jeans but was not designed or produced by LEVI'Sr. *Denim is 100% cotton, skirt is 100% polyester chiffon *Import
Overall Average Rating:Â 
based on

6

reviews
sizing:
runs small
true to size
runs large
Name:
KatieP
"
Let me preface this by saying that I LOVE FP. I love almost every item they have ever had in inventory. But this skirt is an epic fail. I am all for layering and the bohemian aesthetic, but this skirt combo is tragically incoherent as an item of clothing. It just looks like a 1990's DIY project gone terribly wrong. (try one of their other layered maxi's) I had seen it on the website and thought it was tacky. Then my crazy aunt sent me this as a present. She usually sends me wacky clothing items from no-name brands, but this item was familiar (as I had already seen it on the website) and was alarmed when I found it was truly from Free People (I was hoping it was a cheaper knockoff and that she hadn't wasted her money). I give it one star because the length is not terribly off. I find that most maxi's are made to accommodate women who are 5'11". That one little quality did not save it for me, as it went straight to goodwill (although it should have gone to the dumpster). Next birthday I am asking people to donate money for potable water- not waste their money buying me something like this.
"
0

of

2

found this review helpful.
Overall Rating:Â 
sizing:
runs small
true to size
runs large
My Product Recommendations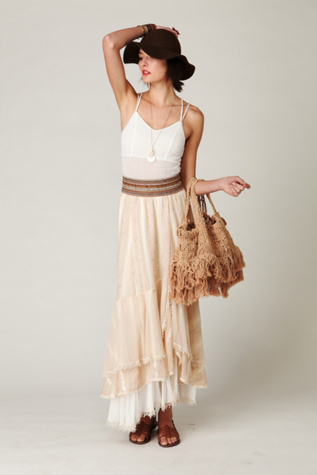 (
8
)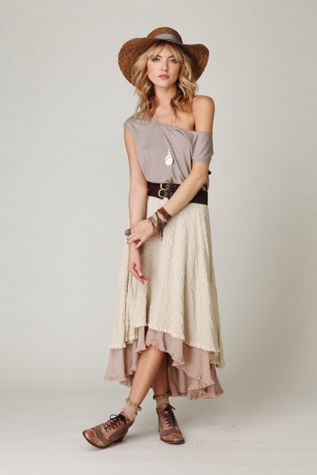 Plaid High Low Maxi Skirt
(
9
)
Name:
waterloggedButterfly
"
Just recently received this via mail in the Tribal Combo. It is BEAUTIFUL!!! Such an awesome idea for a skirt. Very bohemian feel to this one. I'm about 5'3 105-110 lbs, usually wear a 0 or a 2 (probably equal to 24 or 25) and read the reviews about this skirt running large (of course!). I ordered the smallest size (22) and was able to put it on and button it but it was very tight and came up to my bellybutton. I returned it for the 23 and it fits great. The patches were different (like the ones on the 22 better) but still very very cute. Overall this skirt is a must-have for anyone looking for that eccentric, boho-hippie look! Totally unique!
"
FPME Style Pics and Collections
Back to Top