Details and Shopping
FP Exclusive :

Only sold thru Free People
Maxi skirt with a zip-up denim top and a printed, ruffled polyester chiffon bottom. Each piece is one-of-a-kind and made with vintage recycled denim for a unique, ultra-bohemian look.

This item incorporates a modified pair of LEVI'S® jeans but was not designed or produced by LEVI'S®.

*Denim is 100% cotton, skirt is 100% polyester chiffon
*Import
FP-1 Mini Denim Print Maxi Skirt
Overall Rating
Overall Average Rating:Â 
sizing:
runs small
true to size
runs large
6
6
Maxi skirt with a zip-up denim top and a printed, ruffled polyester chiffon bottom. Each piece is one-of-a-kind and made with vintage recycled denim for a unique, ultra-bohemian look. This item incorporates a modified pair of LEVI'Sr jeans but was not designed or produced by LEVI'Sr. *Denim is 100% cotton, skirt is 100% polyester chiffon *Import
Overall Average Rating:Â 
based on

6

reviews
sizing:
runs small
true to size
runs large
Name:
KatieP
"
Let me preface this by saying that I LOVE FP. I love almost every item they have ever had in inventory. But this skirt is an epic fail. I am all for layering and the bohemian aesthetic, but this skirt combo is tragically incoherent as an item of clothing. It just looks like a 1990's DIY project gone terribly wrong. (try one of their other layered maxi's) I had seen it on the website and thought it was tacky. Then my crazy aunt sent me this as a present. She usually sends me wacky clothing items from no-name brands, but this item was familiar (as I had already seen it on the website) and was alarmed when I found it was truly from Free People (I was hoping it was a cheaper knockoff and that she hadn't wasted her money). I give it one star because the length is not terribly off. I find that most maxi's are made to accommodate women who are 5'11". That one little quality did not save it for me, as it went straight to goodwill (although it should have gone to the dumpster). Next birthday I am asking people to donate money for potable water- not waste their money buying me something like this.
"
0

of

2

found this review helpful.
Overall Rating:Â 
sizing:
runs small
true to size
runs large
My Product Recommendations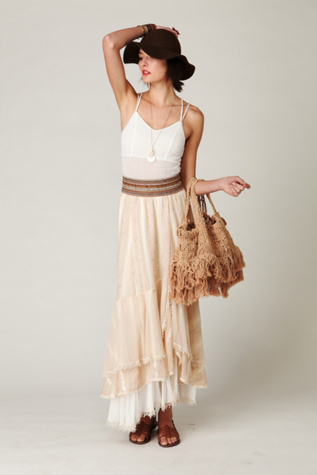 (
8
)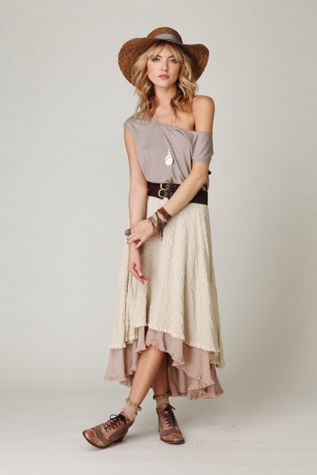 Plaid High Low Maxi Skirt
(
9
)
Name:
waterloggedButterfly
"
Just recently received this via mail in the Tribal Combo. It is BEAUTIFUL!!! Such an awesome idea for a skirt. Very bohemian feel to this one. I'm about 5'3 105-110 lbs, usually wear a 0 or a 2 (probably equal to 24 or 25) and read the reviews about this skirt running large (of course!). I ordered the smallest size (22) and was able to put it on and button it but it was very tight and came up to my bellybutton. I returned it for the 23 and it fits great. The patches were different (like the ones on the 22 better) but still very very cute. Overall this skirt is a must-have for anyone looking for that eccentric, boho-hippie look! Totally unique!
"
Overall Rating:Â 
sizing:
runs small
true to size
runs large
Name:
Shnay
"
originally ordered a 26 thinking it would fit snugly being a 26-27 normally...WRONG!!! HUGE. like falling off huge. Then they took this skirt off the website so I ordered it by phone in a 24 thinking oh no it mihgt be too small this time...nope fits perfect! however its too long so I'm going to try to size down once more so long as the 23 is still in stock that way it will sit a bit higher and be off the ground so I can actually walk in it. Also wish they would have taken the denim skirt in a bit because it flares out away from the rest of the skirt and looks a bit awkward. Gorgeous piece though, simple yet unique :) <3 FP as always :)
"
Overall Rating:Â 
sizing:
runs small
true to size
runs large
Name:
sisgoldenhair
"
I was dying for this but I really wanted to try it on first. Since the denim is vintage Levi's I wasn't sure how it would run. I tried on my usual size 25 and it fell off me. I would say it was at least 2 maybe 3 sizes to large for me. I was very disappointed since there were no 24's or 23's. Cute and adorable but it didn't work for me.
"
Overall Rating:Â 
sizing:
runs small
true to size
runs large
Name:
TiffanyMichelle
"
I got this in the pink floral color. In the size 28, It fits me well. It hits below the belly button, a little higher than the hip bones. My hips are about 39 inches. I am 5'4 1/2 and the skirt barely brushes the ground just like the model. There is some room in the waist band, but the denim is incredible comfortable and even has a little bit more give. It is not a stiff denim at all, so if you want the waist band to be more fitted and are in between sizes, I believe you would be able to do so comfortably. I am very happy with this purchase.
"
1

of

1

found this review helpful.
Overall Rating:Â 
sizing:
runs small
true to size
runs large