Details and Shopping
Ultra-boho strappy leather sandal with elaborate diamond stitching detail throughout. Zip-up closure in the back. Rubber sole.

*By House of Harlow *Import
Steffie Dutch Sandal
Overall Rating
Overall Average Rating:Â 
sizing:
runs small
true to size
runs large
1
1
Ultra-boho strappy leather sandal with elaborate diamond stitching detail throughout. Zip-up closure in the back. Rubber sole. *By House of Harlow *Import
Overall Average Rating:Â 
based on

1

review
sizing:
runs small
true to size
runs large
Name:
TheTipsyToad
"
These are very pretty, very bohemian-style sandals. The leather seems to be of good quality, and the stitching looks like it will withstand just about anything. I love the little nailhead detail around the toe. The only thing I would change about these is the fact that the design is embroidery rather than what I thought it was -- a tooled design. That's my fault for not paying attention to the description. It's still VERY nice, and quite sturdy, but I would have liked the sort of southwestern feel a tooled design would lend. Other than that, these sandals are well worth the $99 sale price. They fit true to size. I am a 9.5 in most shoes, and these 9.5s fit on me just like they do on the model.
"
Overall Rating:Â 
sizing:
runs small
true to size
runs large
My Product Recommendations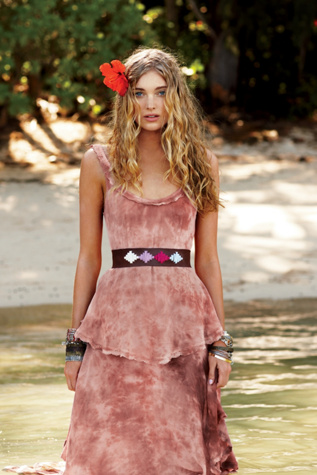 (
29
)