4 Ways To Beat Hard Water Hair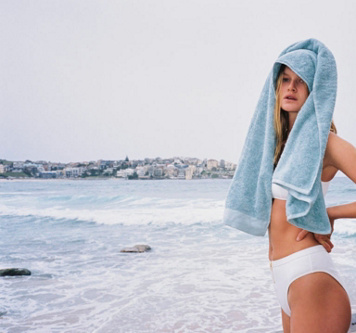 When I first moved to Philadelphia, I anticipated a lot of things. I was ready to start a completely new life; to start my first "real" job; to move into an apartment on my own; to make an entirely new group of friends. But there was one thing for which I wasn't prepared: hard water.

UPDATE: This post originally ran August 1, 2012, but we wanted to share these helpful tips with you again!
In New York — where I come from — the water is brilliantly soft. It's great for skin, hair, and perhaps most importantly, bagels and pizza (is this an urban myth?). After just one week in Philly, I noticed my hair was behaving strangely. It was dry and straw-like. It felt brittle and lifeless. It was extremely knotty and almost sticky to the touch. I had no idea what was going wrong, and then it finally hit me: THE CHANGE IN WATER.
Hard water, in easy-to-understand terms, contains a high amount of minerals. Mineral content in water can vary from state to state, even from city to city. Though while it's not harmful to your health, hard water can cause serious problems for your skin and hair, creating a buildup of minerals that ultimately dries them out. If you've ever moved from a soft water city to a hard water city, I know you feel my pain. But don't fret — hard water does not have to ruin your life!
After three months of researching and experimenting, I've figured out 4 key ways to return your hair to its naturally beautiful state:
Install a shower head water filter.
Yes, these exist! Shower head water filters work just like drinking water filters by encouraging pH balance, and filtering out unwanted chemicals! These filters are normally built into existing shower heads, so be prepared to replace the entire piece. They vary in price depending on their various functions and designs.
Use a chelating shampoo.
Chelating shampoos are specifically designed to prevent and remove existing mineral buildup in your hair. A chelating agent will chemically bind to minerals, removing them before you even have a chance to notice they're there. Some shampoo companies throw around words like "clarifying," "chelating," and "neutralizing," so to be sure you're using the right product. Look for one that has the ingredient EDTA. Because a chelating shampoo strips hair, it should only be used once per week, and followed with an [intensely moisturizing conditioner](https://www.freepeople.com/shop/atlantis-moisturizing-conditioner).
Make an apple cider vinegar rinse.
A vinegar rinse will not only remove buildup from your hair, but also provide bounce and shine! Mix 1/3 cup of apple cider vinegar with 1 qt distilled water. First, shampoo your hair and rinse well. Apply the mixture, leave on for a few seconds, and rinse with cold water. There's no need to condition after. Due to the acidic nature of vinegar, consider using this rinse only once a week – perhaps alternating weeks with [a chelating (build-up-removing) shampoo](https://www.freepeople.com/shop/briogeo-scalp-revival-shampoo).
Finish off with argan oil.
If hard water has dried out your hair, [argan oil](https://www.freepeople.com/shop/josie-maran-100-pure-argan-oil) will restore the moisture right away. Simply apply to damp hair post-shower and style as usual. You can apply all over or stick to the ends, depending on how dry your hair is. Be mindful of how much you apply near your roots, as this could cause unwanted greasiness. And be sure to look for pure argan oil vs. a silicone-based product that may only contain a small amount.